PART 2 : Let President Koroma Do what he believes will help him PERFORM His Job Well And Serve The Best Interest Of The Nation
By KABS KANU :
Governance is a delicate preoccupation. The President is like a goalkeeper . He has to be comfortable with his defenders around him and the backs must be serving the best interest of the team's playing style  for the goalie to do a great job between the posts. I have been a goalkeeper before  though strict and over-protective parenthood  robbed me of the opportunity to make my mark.I grew up playing soccer with people like Kolleh Dumbuya and Fangay Kamara at the Fergusson Street Municipal School ( FSMS ) Field in the late 50s and early 60s and these two went on to become national heroes later . I could have easily grown into a Leone Stars' goalkeeper if my parents had given me the chance. So I know what I am talking about.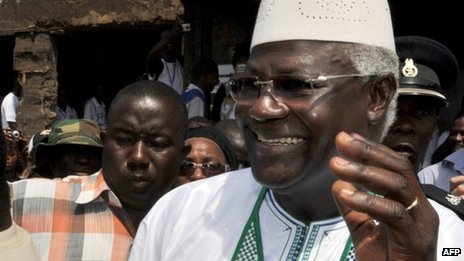 LEAVE PRESIDENT KOROMA TO DO WHAT IS BEST FOR THE NATION 
The goalkeeper and his defenders must work in tandem. The goalkeeper must understand the movements , tackling , heading and ball-clearing styles  of his defenders to know what to do when there is a shot at goal or a goalmouth scramble or a penetration of the defence. This helps him know when to commit himself to save or wait, and when  to parry the ball, where to push the ball and with what force because  he must be confident that the defenders understand his moves and will cut out or clear the ball away after he has punched it out. The most delicate time in the relationship between the goaler and the defence comes during corner and  free kicks. The goalkeeper and his team must understand themselves well here so that the goalkeeper knows the balls that will be headed out or cleared after a corner . If he understands his defenders well, he knows when to jump to catch the ball or punch away or when to stay put between the posts because the defenders will take care of the inswingers or outswingers. It is not possible to be a great goalkeeper if you and your defenders do not understand one another well. Manchester United are presently playing immaculate football upfront , especially with Robin Van Persie being so prolific and sure-footed and the likes of Wayne Rooney, Antonio Valencia, Chicarito and other forwards being so swift, precise with their dribbling and passing  and should have been out of reach in the Championship race by now, but they keep leaking goals because Goalkeeper David De Goa and his defenders have still not established a cohesive and brilliant understanding of one another.
This issue of demanding that President Ernest Koroma appoint certain classes, categories or ages or educational levels of people will be counter-productive if such appointments are not   well tailored to cohere with what makes the President  comfortable to perform well and what will serve the best interest of the nation. We have to realize that politics is a results-oriented occupation. The public that voted in the President is looking out for nothing but results . If the public was not sure that the President would deliver results, they would not have voted for him. They voted overwhelmingly for him because they knew that he will bring results. Therefore, the President must be given the free hand to choose the people he believes will help him achieve results. If they are old hands, so be it. The end will justify the means. If they are new hands, let the President exercise his prerogative. That was why we voted for him as a nation. We trusted in his wisdom and ability to choose what is best for our nation.
As I said earlier, governance is intricate. By definition, governance  is "… epitomized by predictable, open and enlightened policy making; a bureaucracy imbued with a professional ethos; an executive arm of government accountable for its actions; and a strong civil society participating in public affairs; and all behaving under the rule of law." –  World Bank 1994: Governance: The World Bank's Experience.
If the definition above is correct, then it justifies what I said earlier that there must be impeccable understanding between those who work together in governance –Understanding of each others' temperament  under different circumstance ; understanding of each others' abilities, capacities and weaknesses and the ability to tap on each others' strengths to produce viable and sustainable results.
Let us examine one by one the criticisms people have levied since the new cabinet was announced .
Some people are saying that there are not enough PH.D holders in the government . But the question we must address is this : Is the presence of these intellectuals  the magic wand to good performance by the government ? . Should President Koroma have appointed a PH.D holder for the job of Information Minister, for instance, just for the sake of saying that Sierra Leone's Information Minister holds a PH.D ? What is the use of a PH.D holder  if he will not integrate himself into the governance style and work -ethic of the President and other members of the government to produce the results the President is looking for ?  Should a PH.D  man or woman be appointed just  FOR THE SAKE OF IT ,  because  they are PH.D  holders or  for aesthetic or window-dressing purposes  ?  Governance, it must be borne in mind, is not a pappy-show. It is about assured performance and results. Let the President put somebody in a ministry where he is certain that the  individual will produce the results he wants. It does not matter if the person has a PH.D or not. A reasonable education that serves the person and the society well should be enough in the circumstances.  What is important is the individual's ability to deliver. Some ordinary BA holders are more efficient and proficient than some PH.D holders . The President is going once more with certain officials because he has confidence in them that they will help him achieve the results he cherishes. He cannot replace them with PH.D holders just because that will provide the government an  intellectual look .  Looks are deceiving .What if the PH.D. man or woman does not have a good record for delivering results ?
WE WILL CONTINUE THE DISCUSSION OF THIS ISSUE IN PART 2
© 2013, COCORIOKO. All rights reserved. – Discuss this and other related articles on the Salone Forum