The much-awaited announcement of the new cabinet to take President Ernest Bai Koroma's Agenda For Prosperity to fruition in Sierra Leone may be announced any time now, most probably  tomorrow , Friday January 4, 2012, according to information received by this press. President Koroma may announce the cabinet after he had spent weeks methodically and meticulously reviewing the performance of ministers and public officials that served him during his first term ( 2007-2012) and the qualifications and capabilities of  new prospects for inclusion in the Agenda For Prosperity cabinet.
Since he first became President of Sierra Leone in 2007, Dr.Ernest Bai Koroma had made it a ritual not to take any decision without first  methodically examining every conceivable side of the issue. State House officials who work closely with the President  describe him  as a cool, calm, composed and meticulous person who takes his time to do things to ensure that he gets them right. He is never abrasive . He is never the man you can push to take wildcat decisions .
President Koroma has carved an impressive niche  as the kind of man you should  not expect knee-jerk reactions from. He does nothing without first spending man hours deliberating on it, engaging in fruitful and valuable consultations  and meticulously going over facts, documents and other relevant matters with a fine comb before reaching a verdict. Though no man can ever be perfect, President Koroma is perceived by many officials working with him as a man who strives for perfection in his undertakings. Accordingly,  this will be reflected in the cabinet that the President may announce tomorrow , as it  will satisfy the majority of the people of Sierra Leone.
Yesterday, it was being speculated that because of the seriousness President Koroma attaches to the possible announcement of his cabinet this week, he will not be attending the inauguration ceremony of Ghana's newly-elected President  in Accra on  January 7. The President, it is reliably learnt will be represented by Sierra Leone's Ambassador to Ghana, H.E. Mr. Osman Yansaneh, the Minister of Justice, Mr. Frank Kargbo and the Minister of  Foreign Affairs Affairs, Dr. Samura Kamara.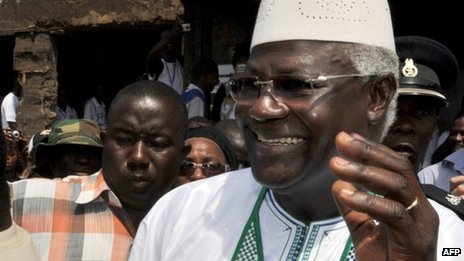 PRESIDENT ERNEST KOROMA : THE METHODICAL LEADER 
What nobody has been able to conjecture is which ministry, public agency or corporation will experience changes in personnel. While it is common knowledge that some ministers, directors, ambassadors and diplomats will retain their positions, it is not known who will  return to their jobs and who will not,  because President Koroma , apart from his characteristic brevity with speech, is also noted for pursuing his evaluation and verification mechanisms to the last minute and as at the time of writing this article he is said to have still not  drawn a fine line  under his cabinet list.
What is also certain , from what COCORIOKO  has gathered so far, is that President Koroma values his legacy so much that he is going to guard it zealously and jealously as will be reflected in the appointments he will be making. The ability to deliver, probity and other essential attributes of a committed public official will be the yardstick for every appointment made by the President in his Agenda For Prosperity cabinet.
Understandably, there has been tremendous anxiety among the President's ministers, public officials, ambassadors and diplomats as they await the formation of the cabinet. There have been rumours here and there about who will be be retained and names of prospective new appointees . There was a time when even a false list of new cabinet appointees was circulated by some unknown persons but how inaccurate that list was  became very manifest when President Koroma announced the first three ministers of his cabinet . Contrary to the fake list that was circulated , President Koroma appointed State House Chief of Staff , Dr.Kelfala Marah,  Minister of Finance;  the former holder of the Finance Minister post, Dr. Samura Kamara, became  the new Minister of Foreign Affairs and International Cooperation , while the Minister of Justice, Mr.Frank Kargbo retained his post.
While the state of anxiety reigns, some vindictive Sierra Leonean  journalists,  who have an ax to grind with some presidential appointees,  have ill- advised themselves that this is the right atmosphere to seek the downfall of these appointees by writing damaging and scathing stories about them, with the false illusion that what they write will influence President Koroma. But officials very close to the President have said that these journalists are going to  fail in their diabolical quest to jettison the re-appointment prospects of ministers, diplomats and public servants , especially those that the President deems to have done a magnificent job during his first term. The President, it is known, constantly reviews the performance of all those serving under him and since , as captain of his team,  he already knows who his best players are,  he  is not going to  be influenced by puny newspaper publishers and gossip  about his appointees. During his first term, President Koroma carved another impressive image of himself –That of a leader who does not pander to gossip, back-stabbing or the Pull-Him/her Down ( PH.D ) syndrome , known to be the forte of many Sierra Leoneans. These malicious activities turn off the President and he is known to give cold shoulders to anyone he suspects of harbouring these unprogressive tendencies. Therefore , all new presidential appointments or retention of personnel announced possibly tomorrow will be the result of  careful and calculated deliberation on the abilities and capacities of the individuals concerned and not the product of what other people tell the President to do or write in their newspapers. Many officials being maligned by newspapers will rejoice tomorrow, we have learnt.
One State House official put it more colorfully when he said : "The Team Manager gives out vests to the players he believes are capable of performing well on the field. Players do not recommend themselves for vests nor do people dictate to the team manager who should be given vests . He gives out the vests to those he considers competent and capable of wearing those vests, regardless of what  some people think about these players. Once they are good, the team manager will give them  vests to play , because he has confidence that they will help his team win".
The huge anxiety over the cabinet may be  probably demolished tomorrow and hopefully the era of President Koroma's AGENDA FOR PROSPERITY will kick off in earnest .
© 2013, COCORIOKO. All rights reserved. – Discuss this and other related articles on the Salone Forum