President Koroma sounds a strong warning in Makeni : Tough Love this term
Do you remember what parents tell kids in America  when they impose discipline : "Honey, I love you, but for the general good, I have to take tough actions. You need tough love for your own good and for everybody's good " ? Well,  President Ernest Koroma has already started sounding a strong warning about what his second term as Head of State, Commander-In-Chief and Fountain of Honour  of the sovereign Republic of Sierra Leone is going to be. He is going to make some tough decisions but it will be in the interest of the nation.
Jarrah Kawusu-Konte  travelled with President Koroma to Makeni where the Chief Executive spent his Christmas holiday , away from the clamor, buzzle and din of the capital, Freetown.
JARRAH KAWUSU-KONTE REPORTS :
President Koroma Drops Bombshell
His Excellency Dr Ernest Bai Koroma, last night issued a stern warning to Lawbreakers whilst addressing a group of illustrious Sierra Leoneans at a Dinner held in his honour in Makeni, Northern Sierra Leone.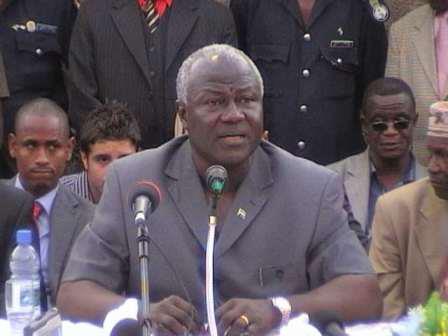 PRESIDENT ERNEST KOROMA TO CRACK DOWN ON LAWLESSNESS AND RUDENESS IN THE MEDIA AND MALFEASANCE IN PUBLIC LIFE
According to the Head of State who was popularly re-elected to steer the ship of state for another five years, "Lawlessness is too much in the country. No country can prosper in the midst of lawlessness. You have voted me for my second and last term and I thank all those who voted for me. But please I want you all to realize that this is going to be my last term and I'm all set to live a legacy as a former President."
He went on to drop the bomb as he warned; "In the process, I'm now ready to part company with friends and relatives. No more business as usual. It doesn't mean because I did not jail any politician or journalist in my first five years in the midst of rudeness and lawlessness, the same will continue. I'm warning those with ears to hear me. I wish you all a prosperous New Year". END OF REPORT
___________________________________________
COCORIOKO'S INTERPRETATION OF THE PRESIDENT'S WARNING 
Many people in the social media have been trying to take the President's warning out of context. While some said it was an admission of  softness during the president's first term and others hope it is not a signal of encroaching despotism, it is important to note here that neither opinion is correct. The President is probably going strictly by the teachings in the Book of Ecclesiastes that there is a time for every purpose. This is what the GOOD BOOK teaches :
Ecclesiastes 3
King James Version (KJV)
3 To every thing there is a season, and a time to every purpose under the heaven:
2 A time to be born, and a time to die; a time to plant, and a time to pluck up that which is planted;
3 A time to kill, and a time to heal; a time to break down, and a time to build up;
4 A time to weep, and a time to laugh; a time to mourn, and a time to dance;
5 A time to cast away stones, and a time to gather stones together; a time to embrace, and a time to refrain from embracing;
6 A time to get, and a time to lose; a time to keep, and a time to cast away;
7 A time to rend, and a time to sew; a time to keep silence, and a time to speak;
8 A time to love, and a time to hate; a time of war, and a time of peace. END OF QUOTATION
________________________________________
For life to benefit from a healthy balance , there must be time for all purposes. During his first term, one of the President's main goals was to unite the nation ; it was also his goal to throw a protective and loving arm around everybody as the Father of a nation that had gone through very rough times and crucibles : Bad governance, oppression, suppression, war, merciless killings and amputations etc.etc. He had to soothe the nerves and emotions of a nation that had suffered too much. He was the very epitome of remarkable tolerance that some people mistook for weakness and softness. The President was trying to carve out a new post-war nation  where citizens had to be assured that the bad, old days were gone and now it was time to gather that which had been lost and console that which had been hurt.
This philosophy also has a strong Biblical basis. Mankind is today enjoying the Dispensation of Grace which was ushered in when Jesus Christ died on the Cross to save us from our sin. People upset by the wickedness in the world , like the recent SandyBrook killings , where a gunman slaughtered 20 innocent kids wondered why God would not be the God of the Old Testament, who unleashed instant and deadly punishment for wickedness ( e.g. the destruction of the twin cities of Sodom and Gomorrah by fire and brimstone ).The answer is that that was the Dispensation of The Law. Today, we are in the Dispensation of Grace. God is merciful to man now through the Blood of Jesus Christ to give him a chance to partake of the grace that comes from faith in the finished works of Jesus Christ on the Cross of Calvary. The Dispensation of Grace will end one day when everybody would have been given the opportunity and chance to return to God and then it will be back to tough love when God will punish those who failed to take advantage of his grace and mercies.
In his Second term, President Koroma will be eyeing both his Agenda For Prosperity and his legacy. Much as he will go all out to deliver more socio-economic and political developments and also nourish our marvelous human rights record and multi-party democracy, he will fight hard not to leave  behind a lawless nation where people feel it will always be business as usual. In the interest of the nation, President Koroma will have to clean up some people and the nation . In the process,  he will definitely touch raw nerves –of the general populace and of  families and friends alike–but the national interest will always be paramount in governance  so that when it is time for him to say goodbye, he will leave behind not only a strong and progressive nation but one where discipline, respect for the law , patriotism and respect for other people  will be the keynote.
President Koroma had always been a tolerant and loving individual. He will not change. He will continue  to be the good guy ; he will continue to respect fundamental human rights, freedom of the press and freedom of speech. But those who would want to take advantage of the nation by refusing to amend their ways  and redeem the time will be in for tough love . The President will act but it will be in love. Tough Love.
When a baby is born, it is nourished with breast milk, canned milk, custard and other baby foods. However, the  time will come when the child will be expected to have grown and graduated from eating baby food  into chewing  hard bones . That is what  life is all about and that is what is needed in Sierra Leone.
It is time to begin chewing hard bones that will make us better persons and help to return Sierra Leone to her old glory.
© 2012, COCORIOKO. All rights reserved. – Discuss this and other related articles on the Salone Forum